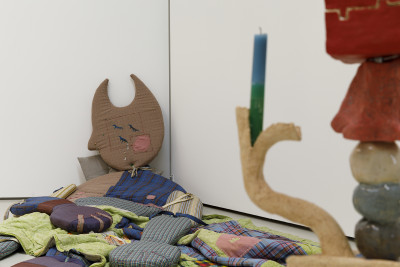 Base for Experiment, Art & Research.
BEAR is the BA Fine Art programme of ArtEZ Arnhem. It is built on a belief in the importance of contemporary art for society. Art is a domain that constructs knowledge by experimenting with new ways to intervene in the world. BEAR offers young artists the space to embark on a journey, together with teachers and peers, to investigate and experiment, to build a position within the field of art. Each study trajectory is a personal one, yet no art practice exists on its own, so in the programme individual and group work are closely linked.
As a community working with and through art, we collectively push the boundaries of creative possibilities and experiment with the role of artists in society. The force of art lies in an unconditional belief in the power of imagination and experimentation, and in embracing and cultivating diverging perspectives. Art is a public sphere and a political force, it examines possibilities for and gives shape to a common world. Art does not exist in a vacuum, it is a living and breathing ecosystem in a dynamic relationship with society. Art is distinctive, it does not conform to prevailing ways of seeing and speaking, but investigates and reinvents these.
Education at BEAR is designed to prepare aspiring practitioners for the field of contemporary art, while leaving ample space for personal learning goals. We acknowledge the complexity of navigating today's society, and the asymmetries in how individuals experience the world we share. Therefore, we commit ourselves to creating a learning environment where difference can thrive. At the same time, education must build a shared practice, a shared language around communal concerns and objects of study, which in our case is contemporary art. The formats of the education we offer reflect our vision on how individual and collective learning become mutually supportive.
| | |
| --- | --- |
| Degree | Bachelor of Arts |
| CROHO | 39110 |
| Duration | 4 year, full time |
| Study Load | 240 ECTS |
| Costs | Tuition Fees |
| Language | English-taught programme |
| Student Number | 140 |
ArtEZ Finals 2022 - Julia Jungmin Park
---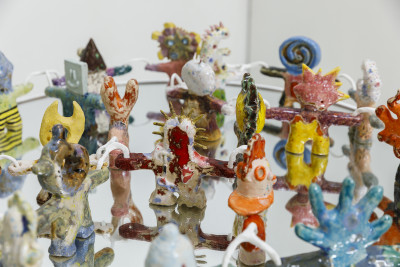 Studio Practice and Research
First and foremost, learning happens through the process of making and artistic research. Students develop skills through material and conceptual experimentation. This primarily takes place in their studios and in the workshops of the academy, supported by workshop instructors, who offer specialised knowledge. Artistic research classes take place in the studios of the students, elsewhere in the academy, or outside, depending on what is needed to support students in developing their own set of research methods.
Tutor Bases
After an introduction period in the first year, students join one of the seven Tutor Bases for the duration of their studies. A Tutor Base is a learning group, led by one tutor and centred around thematic questions and specific approaches. Each Tutor Base has a designated studio space where students have their individual working spaces, and where the group meets for collective activities such as group critiques.
Theme Studios
In the first year, all students follow a programme of Theme Studios, which combine the teaching of skills and knowledge regarding techniques and materials with an introduction to a range of artistic perspectives.
Individual Tutorials
Students are supported in their individual development through tutorials, either by the tutor of their Tutor Base, other teachers from the department or guests from outside.
Projects Led by Guest Tutors
Each year, several emerging and established artists are invited to organise a project, and students choose which ones they want to participate in. A project is an invitation to temporarily join the guest tutor in their artistic process. The form the project takes depends on the practice of the guest. Students learn by observing how more experienced artists work. This may include the making of a collective work or presentation.
Theory Classes
Theory education at BEAR is twofold. First of all, it offers the tools to reflect on the role of art in society, combining art-historical and art-theoretical perspectives. Secondly, it aims to develop the crafts of reading, writing and thinking in a way that is useful for practising artists — for instance to support artistic research, or to contextualise and conceptualise one's practice. For that reason, art theory is complemented with sources from other disciplines such as philosophy, media theory, sociology and psychology.
Presenting Work
To a large extent, learning happens through presenting work to others, either in a more private setting in the academy, or in public presentations. Presenting work is therefore an integral part of studying at BEAR.
Excursions
Through regular excursions and visits to exhibitions within the Netherlands and abroad, students are familiarised with the most recent developments in contemporary art.
---
BEAR Fine Art is a Top Rated Education program (Keuzegids 2023) and part of ArtEZ University of the Arts, one of the major art schools in The Netherlands. It has a total of 900 employees, including around 600 lecturers. The Executive Board and the support services are concentrated in Arnhem, and the different academies are distributed along Arnhem, Zwolle and Enschede. BEAR Fine Art is located in Arnhem. In our campus you can also find other departments such as Design, Fashion, Theater, Music, Creative Writing and Dance. Arnhem a city on the edge of the Veluwe and on the northern bank of the Rhine. The abundance of greenery offers space for all types of initiatives and is of great inspiration to our students and the projects we develop. If you are wondering what it is like to study in Arnhem you can read the blogs from fellow students with tips on how to find rooms, side jobs, parties and more.
What is like to study at ArtEZ?
Welcome Days for international students at ArtEZ Arnhem
---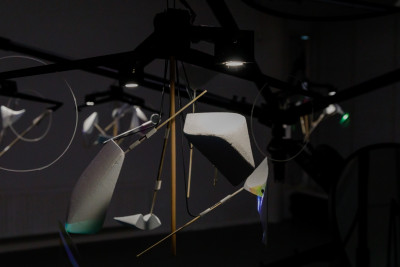 ArtEZ in Arnhem has well-equipped workshops. There you will meet fellow students from different courses and workshop assistants who are there to help you. In the Central workshop you will find all the required machines and tools for working with wood, metal and plastics, as well as a sewing workshop, blasting and spraying room and a materials shop. In addition, there is a storage area for the work in the basement. At the Graphic Workshop you can practice graphic techniques (etching, lithography, woodcarving, etc.). In the Photography Workshop, you will find all the facilities (computers/printers) for digital photo editing. You can also borrow a digital camera here. Same in the Audiovisual Workshop, you will find various types of cameras, monitors, projectors and computers for digital image and sound editing. At the Ceramics Workshop you can learn how to make moulds, cast, model, work with plaster and much more. You will also find kilns for firing and glazing your work here. We have a Print Workshop for screen printing and large format printing, using a transfer press, cutting plotter and cutting machine, and for bookbinding and typesetting. Finally at Hardware software LAB you can program and automate tasks in computer programs like Illustrator and InDesign. You can also work with all kinds of electronics, for example using Arduino components/building motors and robots.
---