---
Future Fields was a sex-week course guided by Jasper Griepink and guests Müge Yilmaz + Four Siblings Garden. The project looked at the effects of climate change, new relations with the land and new ways of living are immanent. Speculative futures are needed. In this course, students looked at Future: from macro to micro, from big dreams to significant details; when we think about and design the future, what should we consider? What should we be mindful of? How can we be critical? What do we want? How do we do it?
Can we be more mindful about the worlds we make through our fictions and propositions? Is our work creating a magical forcefield of probability that could help sprout possible futures? How do we 'manifest' critically? We will look at Soil:We will ground our ideas in local soil, in our bodies, into connection with the Earth and the more-than-human world. We will listen to the land and question what new languages and practices of care and relationship are required to create an abundant earthly kinship with the earth.
Future Fields project was based on the theory that whenever groups of people visualize something with detail, the probability it becoming a reality is greatly enhanced. Future Fields in this sense is an energy field, a realm of speculation and attention. We see this in politics, fake news, emancipatory social movements, but also through cultural productions that help society re-think and imagine relationships with the world. In speculative writing, film making and computer games for example, makers go to great lengths to invent (new) worlds complete with histories, eco-systems, and innovations. We see this mostly in sci-fi and fantasy work, and in art. Usually though, the fictions we make are full of doom and horrors. We often depict the things we DON'T want – to raise awareness. Not surprisingly, some of our doom stories seem to become scripts for the future. It looks like humanity has a very hard time to imagine the future(s) we DO want. Let's change this.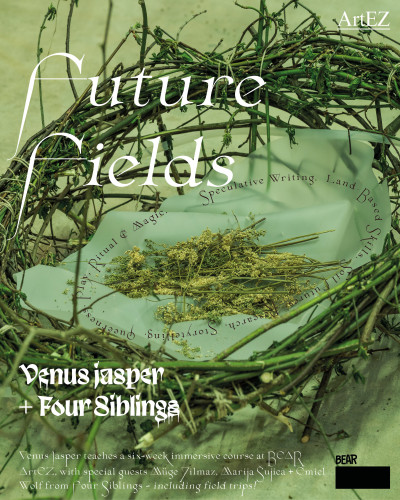 ---