---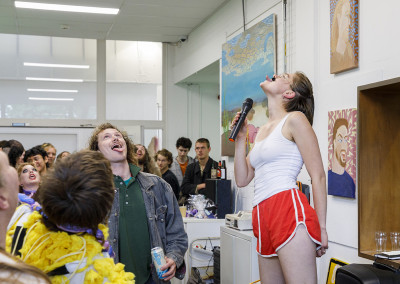 From 05 Jul 2023
To 09 Jul 2023
FULL: FILLED
The first question asked when you tell someone you are an artist in the Netherlands is usually not 'what is your work about?', but 'how do you make a living?'. Conversations about art tend to focus much more on daily concerns than on the philosophical questions it provokes or the social observations that underlie the artwork. This is understandable because talking about art is hard. But it is also a pity because artists excel in bringing unexpected reflections and creating enlightening confusions. They help us embrace ambiguity by showing how hope can emerge from adversity, how joy can be found in tragedy, or how the flat tire that made you come late for work this morning may also provide answers to the greatest riddles of the universe.
The 2023 graduation show of BEAR at ArtEZ is all about that ambiguity. Full:Filled, is the title that the graduates choose for their exhibition. The title expresses their gratitude after four enriching years at the academy, standing at the start of a promising career and excited about the bright bright future ahead of them. Or actually...
Almost half of those years at the academy were spent inlockdown: viewing art made in bedrooms via zoom-calls. Despite their promising careers, the average artist income in the Netherlands in 2023 lies below the poverty line. And with regards to that bright bright future? Well, what shall we say about that?...
But the graduates of 2023 are not letting themselves get discouraged. Quite the opposite: this graduation show is a wholehearted antidote towards cynicism. In their work, these young artists allow themselves to fantasize radically, to seek ultimate satisfaction, or show their barest intimacy. They are multi-makers who effortlessly combine multiple disciplines and techniques and seduce their audiences by appealing to as many senses as possible. The universes they build are not meant to be a refuge but almost function as an extension of themselves, a place to be both honest and imaginative. This call for comfort, for honesty and companionship, that encounter in their art works, are not an attempt to deny the concerns and ambiguities of our time, but rather an earnest plea to present an alternative.
Curator: Rieke Vos
---